Inquisition was very good – I caught up with a heap of people that I hadn't seen for a while including my good friend Mistress Serena who has now retired from Professional Mistressing! She looked sensational in a latex catsuit with latex corset from DeMask and a new wonderful DeMask neck corset with glove suspenders… wonderful! Her friend Mel also looked incredible in full latex, but then she's always beautiful.
So of course a big thank you to all the people who worked so hard to put the party together, particularly Neil and Lisa (non-lj'ers) and felix_femme and grey_evil_twin (extra thanks for the wobby when I got cold!)
Lots of dancing – lots of perving!
Boy was much better – didn't have to throw up once! Nasty virus was conquered by the desire to party – hehehe… hopefully timling won't get sick, she's feeling a bit blergh, but that might just be a post party thing…
I did wear the chain mail bra, long leather skirt (the one that's open down one side) and new knee high leather boots (the biker ones not the pointy ones!)
All good fun – I have a few fun bookings coming up in the next few days… and my phone will be on again!
oh – and in quizzland…
Take the quiz: "Which American City Are You?"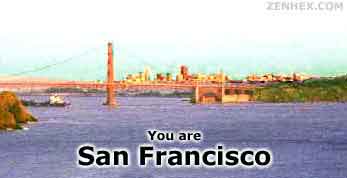 San Francisco
Liberal and proud, you'll live your lifestyle however you choose in the face of all that would supress you.