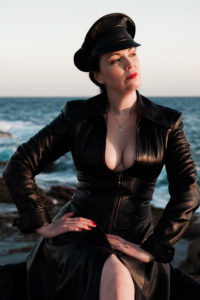 Sydney Dominatrix, Bondage Mistress and Disciplinarian Mistress Servalan has been controlling males for over 25 years of personal and professional BDSM play in the Sydney FemDom community and around the world. Owner of Carisbrook, Australia's most exceptional dungeon with over $100,000 worth of BDSM toys and equipment sourced from the world's best kink engineers and craftspeople from London to LA and beyond.
Mistress Servalan's sterling international FemDom reputation is based on her unmatched creativity, deep personal understanding of fetish, dominant and glamorous presence but most of all impeccable range of skills over a wide range of BDSM interests from introducing novices to the world of FemDom to creating intense overnight and extended sessions in her Sydney dungeon.
"I believe that BDSM play is a way for us to connect with our core archetypes and power dynamics in a safe and negotiated environment. Many of my clients have been seeing me for many years and feel safe to reveal their strengths and vulnerabilities under my care – I look forward to introducing many more slaves and submissives to this exciting world. I hope you enjoy exploring my website and learning more about my calling as a Professional Mistress."
Regards,
Mistress Servalan
Regarding photographs – none of my photographs have been heavily Photoshopped, airbrushed or altered. Some of course are older than others… I love to update my blog and social media including twitter and Instagram frequently so for the most up to date images of myself, my fetish outfits and my daily dungeon life in Sydney and on my travels.