Well that was super fun – if a little exhausting!
My 36 hour session went really well 🙂 It was the longest session I've done so far – though as I have a very strong interest in extended play and enslavement I've been thinking that I really want to do multi-day day sessions for some time…
I do quite a lot of overnight and full day sessions – which generally run between 9-12 hours… they're always very fun and really give a sub a "total immersion" experience which it totally different from one or two hours.
If anyone's interested in what happens in a multi-day session – go take a look at my twitter feed as I updated here and there. We did a lot of fabulous things including loads and loads of different bondage, rubber play, caging and confinement, multiple suspensions, foot massages (for me – hehe), body bags, decadent dining (at Cafe Sydney which is one of my v. fav places), electro play, cbt, nipple play, corporal punishment, forced exercise, anal play, enema, piercing, forced orgasm, metal bondage, hoods and all sorts of fabulous things 🙂
Each night slave slept for about 6 or 7 hours in the Gaol Cell – though I was very indulgent and gave him a thermarest camping mat, a sleeping bag and a leather covered pillow to ease the discomfort of the hard cold floor. I'm not always so kindly when it comes to sleeping arrangements – or the amount of sleep time! But pacing is very important in a session this long – as I need the slave to be able to physically hold out for the entire time.
Hard to say what the highlights were for me over the time – I think one would have to be having slave tightly corseted and wearing my new heavy steel shackles on his wrists and ankles kneeling on the rug in front of me and giving me a foot massage… this would have been about 20 hours in I'm guessing 😉
I wore quite a number of different outfits over the time – from decadent fully fashioned stockings and girdle, elegant silk dress and heels, custom leather skirt and top – even exercise clothes!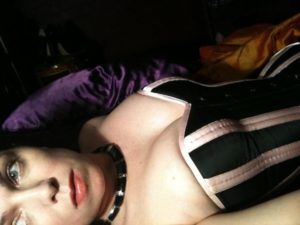 This is during the session – at about the 24 hour mark I think, so I do look a little tired 😉