I've been an admirer of the FemDomme art of Sardax for many years including his amazing fantasy art works, portraits and particularly the illustrations he did for (the sadly now defunct) Governess magazine.
Imagine how excited I was to be given a portrait of myself! I was part of the commissioning process – so had to make a decision (eek) on what I wanted… instead of a more realistic depiction of me in my dungeon wearing rubber or leather, I decided on a Victoriana fantasy with me in a riding habit taking my gloves from a kneeling maid…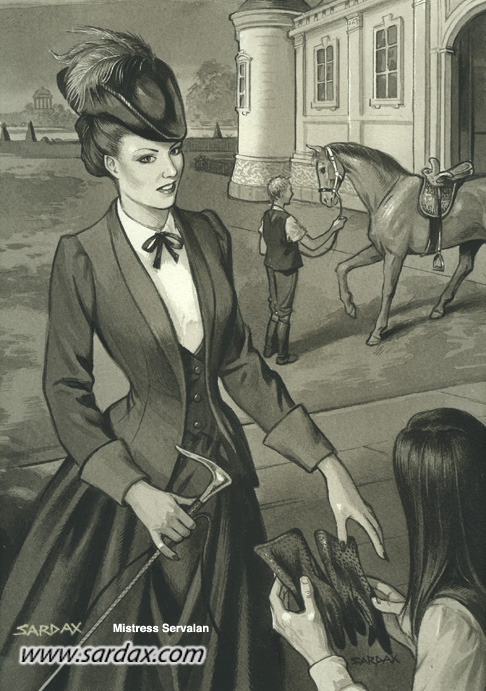 Now I just need to get the perfect frame and find exactly the right home for this in Carisbrook!
it makes me giggle a little – when I ride I sadly don't have quite that array of people helping around, I even picked up poop in the arena yesterday before I rode! And while I am wearing rather nice German breeches, the Hello Kitty t-shirt isn't quite a Victorian corseted riding habit and the helmet isn't half as elegant as the plumed hat 😉
Though I think the beautiful grey Australian Stockhorse I'm riding is prettier than the one in the portrait 😉 I should have sent pictures of him as well for reference material not just my favourite hat!
excuse the phone happy snap – and my total lack of any glamour in this pic!