Well that was an amazing trip! I got back to Sydney last week and started trying to find places for the new toys I picked up in Carisbrook – I'm looking forward to trying everything out on my Sydney slaves and subs!
As always DomConLA is a whirlwind of kinky fun – catching up with my beautiful Domina friends from around the world, meeting even more wonderful Dommes, teaching classes, filming sordid fun, judging the human pony competition, and of course sessions with a few US submissives who'd been missing my tender ministrations for the past couple of years! I'm going to have to sit down and write up a DomCon report later I think and try and post some of the bajillion photos that were taken while I was there! It's quite disconcerting to have so many photographers around all the time – but nice to have photographic evidence of some of the mischief I got up to with my Mistress friends 😉
But first I want to write about the first stage of my US trip – Dallas!!
I've admired Maitresse Renee of Dallas since I met her at my first DomCon a number of years ago – she's an authentically Dominant lady and like myself was active in the BDSM lifestyle several years prior to becoming a ProDomme… When she heard that I would be attending DomConLA again this year she invited me to visit her in Dallas first. Yes please – especially as Qantas flies direct to Dallas now so I was able to head straight there and have a few days visiting before DomCon.
Oh My Goodness – how much fun did we have!
Maitresse Renee has created the most exceptional playspace I have seen – her dungeon Dominion Dallas is absolutely incredible! She has more large pieces of BDSM furniture than I have ever seen in one place before – think of the whole of Salon Kittys *plus* what I have to get an idea – she has a Human Hamster Wheel plus incredible pieces from Fetters (my favourite) along with a whole room full of Sex and Metal furniture including the iconic "Birdcage" and every other amazing piece they've made – I've admired their work for years and it was super exciting to get to incorporate these pieces into sessions… Because my goodness didn't we play! A whole line up of lovely submissives (including a couple who flew in from other states for a chance to serve us) made time to come and play with both of us… I've written before about how much I love doing Double Domme sessions as I believe that playing alongside another experienced Mistress is the best way to learn new things, get a different perspective on play and come away with more ideas to incorporate into my sessions. Plus just checking out someone else's favourite pieces and getting ideas of what to add to my kinky shopping list!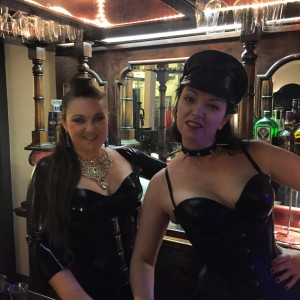 This is a quick happy snap from our first night – I'd been in the country for less than four hours and I was dressed and ready to head into the dungeon! Nothing like a fabulous masochist to say "Welcome to Texas"!
Maitresse Renee also hosts lifestyle playparties in her amazing dungeon and I was lucky enough to attend – way too much fun – though all those top secret adventures will have to stay under wraps for discretions sake 😉
Her space is totally unique because she's created an immersive FemDom environment with slave kennels, Mistresses' chambers (who's four poster beds feature underbed cages for slaves) and many dungeon play rooms – she hosts special events called "True Desires" where multiple Mistresses take charge of several servants over three days of not only kinky playtime but focussed FemDom training as well. I've been an admirer of these events for some time but since I've visited and seen the incredible playspace I'm hoping that I can align my next US adventure to be one of the guest Mistresses!
This visit I made sure to set aside a little time for outside activities – so often when I visit a friend I end up spending almost all my time in the dungeon or attending BDSM events and don't get a chance to see any of the tourist things. I had a beautiful afternoon visiting the Dallas Museum of Art and Nasher Sculpture Centre as well as walking around the Museum District admiring the architecture, even some non-fetish shopping in a couple of Dallas's beautiful Vintage stores (okay so maybe it is sort of fetish shopping). She even took me to the shooting range! And of course a couple of nights out on the town 😉 I was working on the theory that I could sleep on the plane as once I flew out of Dallas and landed in LA – DomCon would be in full swing and there was a lot of adventures to be had there!
But those tales will have to wait 😉