It's hard to believe that I've already been back from LA for a whole month! I've been having a fun and busy time in the dungeon with lots of fun sessions – even a few new-to-me submissives coming in which is always interesting.
I had such an incredible time at DomCon LA this year – once again I was invited as a Guest of Honour – and I'm so grateful to Mistress Cyan and DomCon Advisory Board for creating such a wonderful event. It was the 15th Anniversary of DomCon and I think my 6th time attending. Every year is bigger and better with more amazing women and dutiful submissive men attending.
It always takes me ages to get around to finishing these posts – mostly because at first I'm waiting for photographers to get home from the event, edit and upload the photos… then I'm sorting through and deciding which ones I want to share – then I get distracted with playing and suddenly it's been three week!
I actually started my trip in San Diego visiting the dungeon of my friend Mistress Porcelain Midnight – I really enjoyed spending some quality time with her and even teaching my famous class "The Sensual Art of Brutal Caning" for a select group of San Diego spankos. I have to say I'm super proud of myself for becoming completely confident with driving in the United States. After looking into various options I realised that the most convenient thing for me would be to hire a car and drive the two and a bit hours from LA to San Diego – after a long fllight – and on the other side of the road! I arrived safe and sound with no problems and with an increased respect for my own abilities! Sometimes as a Domina it's easy to let slaves do things for you but it's also good to remember that we're capable and self reliant women as well 😀
After San Diego I had a few days of total spoiling at the beautiful beachside home of Goddess Phoenix – after her visit to Carisbrook a few months ago I was looking forward to spending more time one-on-one and it was so special soaking up the California sunshine and having a chance to discuss our approaches to FemDom and slave training. Plus plenty of wining and dining 😀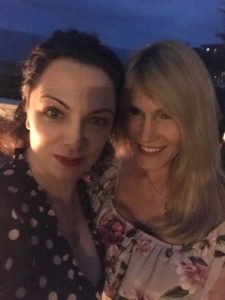 Then it was time to head to the Hilton for DomCon!
As always the Industry Only classes are super interesting – though as always, I'm reminded of how grateful I am to live in a state with full decriminalisation of all forms of Sex Work so many of the legal focussed workshops aren't relevant. Though my Domination practice is very much at the "esoteric" end and I don't provide any of the same services as a regular escort – I don't have to worry that strap-on for example could cause problems… I know that some Sydney based ladies recently have been writing about US legal changes however it really has no impact on us here in Australia – one advertising website closed but to be honest a vast majority of my sessions are with people I have seen before and the new (to me) subs are looking for me and my skills and equipment specifically not ringing around a list of ladies.
The Red Carpet Social and Opening Ceremony kicked off the public part of the event and I was so honoured to get to stand onstage with some of the world's most amazing women! In particular it was wonderful to meet the legendary Mistress Stephanie Locke who began her domination practice in 1980 and has a lifetime of incredible stories to tell! That's her standing next to me on stage – along with my friend German Mistress Dieve, Legendary Latex designer The Baroness and all the other amazing GoH.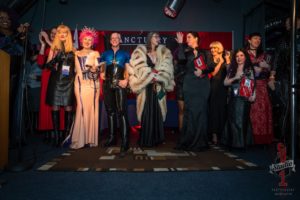 Then of course there was a full round of classes, fetish events and social catchups with my friends – that's one of the best things for me! Getting to catch up with so many amazing women in one place. Of course there was plenty of play – including a Double Domme session of intense Domestic Discipline with a colleague of mine I've admired for many years Miss Grey of San Francisco. We had met previously at a private party hosted by Irene Boss but this was the first time that we had had a chance to play together and it was so very fun 😀 for us if not so much for the miscreant receiving the caning…. He had a classic case of biting off more than he could chew and underestimating just how heavy the requested heavy caning was going to be! Of course all's well that end's well as Shakespeare would say and he's keen to put in some more practice next time I'm in the United States!
Another fun highlight was of course the Pony Show – I've been a judge in the past but this year when I turned up to watch was seized by the glorious SubmissAnn and asked to compete as a Pony Handler – how exciting! I was given the wonderful Pony Speckles to handle and I was very proud and excited that he won Best in Show 😀  Here we all are at the end of the event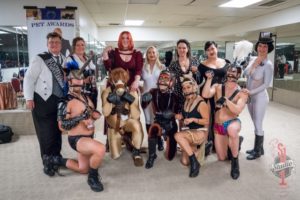 That's not to mention the SHOPPING!!  Of course there is always lots to check out and buy at the vendor stalls and I picked up quite a number of awesome new toys – then I followed it up with a visit to Stockroom on my last day just in case there were any awesome things I don't already have – ha…. I think I will have to go back to my old "gearhead weekly" posts to cover all the new things as there certainly have been plenty!