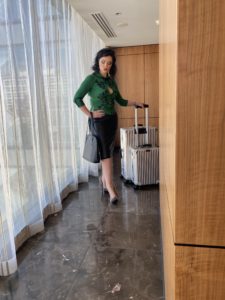 Hard I'm sure for everyone to believe but we're almost at the end of 2022. I'm not quite sure where all the days have gone but I must say that I had a lot of fun this year – a little bit of travel – a lot of awesome femdom play in my Sydney dungeon – a substantial amount of shopping from new Gucci and Jimmy Choo boots to intense new BDSM toys!
One of the highlights of this year of course was reigniting my passion for teaching with Ms Jadis introducing our gorgeous apprentice Mistress Six but also some informal mentoring and training with some of my beautiful colleagues. I'm going to be introducing some more options for BDSM education in the next few months as I passionately believe in traditional FemDom and sharing my knowledge.
There's still a couple of weeks left of 2022 and apart from the 25th itself I'm around over the festive period – perhaps a double session with myself and Mistress Six? It's been so fun having her in session with me and I know a lot of my subs agree – she's also now conducting sessions of her own and developing her own stable of loyal devotees.
It was so nice to get back in the air this year, and I'm hoping to do more travel starting with a holiday in January! I'm away for a bit over two weeks – leaving on the 10th and back playing again on the 27th… Other travel plans for 2023 will include opportunities for play so if you're interested in knowing more going and join my new Mailing List to subscribe for my travel updates.