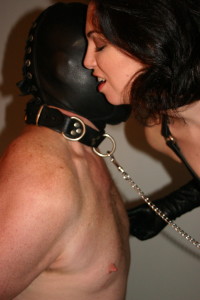 Taking the first step and going to see a ProDomme for the first time can be very intimidating. I'm very understanding and am used to nervous beginners… What I recommend to people considering their first session is to take time to do some research – every lady has her own interests and style and not everyone will be suitable for you. Check out some websites, make a few calls, get a feeling for who you feel comfortable with.
So what happens in an introductory session with me? Generally you will experience a wide range of activities, but all at a light level – you won't leave with any marks, or have to undergo anything too severe. It will be intense however, as every experience is new. I will respect your limits if there are particular activities you don't want to experience and am happy to incorporate things you've been particularly fantasising about, but I don't take close instruction on sessions, particularly with new people! Things are very different in real life to what you've seen on the internet – and I am the one in control and running the session. Also I personally do not provide sex, oral sex, body worship, hand relief or nudity – so if you're looking for a very sexual experience I would not be the right lady for your session.
I always recommend an hour for an introductory session – any shorter and you don't really get to immerse yourself in the experience, any longer and it can be just too overwhelming.