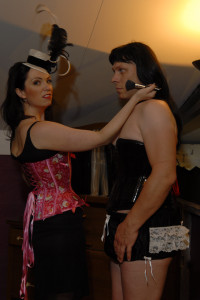 I have been offering a high end Sydney Crossdressing Service for many years ever since I left Salon Kittys and it has long been one of my favourite activities. Beginning the first time I convinced my boyfriend to try on one of my dresses long before I became a ProDomme I realised that transforming everyday males into fetish creatures was something that I loved!
There are as many reasons to crossdress as there are people wishing to experience it… a majority of crossdressers are completely secure and happy in their everyday life as a man – but there's just a secret feminine persona that's looking for a chance to play! For some submissives it is a purely sensual experience where they get to relish the sensation of silky nylons and slinky lingerie or the breathtaking experience of being laced tightly into a corset. Many enjoy exploring their submission in a sexy feminine role, leaving their conservative everyday male persona behind to become a fetish slut dressed in skin tight PVC and shiny boots or stilettos. Or they might interested in exploring life as a sissy slave – needing to learn their place in frilly knickers and ruffled dresses… I am expert at understanding the individual motivation for each subs desire to dress – and using it for our mutual entertainment. From some simple lingerie to a detailed full transformation.
I have an extensive array of wigs, shoes, lingerie and outfits in a wide range of sizes in my Sydney crossdressing studio – expect to see a wide range of outfit options arrayed before you! There is always something new being added to the crossdressing wardrobe, from a size 15 pair of shiny fetish boots to a slinky new mini-dress for that sexy club-girl persona. A selection of over 20 corsets means I can select just the right size to pull you in to a more feminine shape, or there are beautiful vintage girdles and foundation garments for that MadMen style look. Plus top quality makeup to enhance and transform even the most masculine features – applicators are disposable and brushes cleaned with professional steriliser each use for total hygiene.
After you've been turned into the woman of your dreams – a range of other activities can be incorporated into session! Maybe something as innocent as a photoshoot to document your new look, or we can adjourn to the dungeon for playtime.
With hundreds of different outfits to choose from it's hard to pick one, but here are some ideas to whet your appetite; fetish maid, ballerina, conservative office lady, naughty secretary, school girl, frilly sissy, playboy bunny, pvc vixen, rubber slut, lingerie model, or just the girl next door!
Blog posts about my love for crossdressing sessions include