If you've visited me in my dungeon over the last couple of months you might have noticed some changes happening on the North Floor – my domestic area that houses the large crossdressing wardrobe, iconic balcony and comfortable bed…  Mistress Jadis and I have been sorting and updating some of our crossdressing wardrobe recently and I have been changing the storage to look a little more modern and sleek. The new star of the play zone however would be the Salon Chaise that I recently purchased!
This motorised chaise looks like something you would find in an upscale beauty salon – and is certainly very comfortable for my "special girls" when getting makeovers… with the chair's height and incline adjustable by foot controls it's comfortable for me too as I'm not bending over to apply lipstick, eyelashes and all the other glamorous touches… however the usefulness of this piece certainly doesn't stop with crossdressing beauty treatments!
As you can see – it's super useful for bondage! In the case I'm using my new stainless steel cuffs that lock the hands in crossed position along with quick and simple tie-down straps…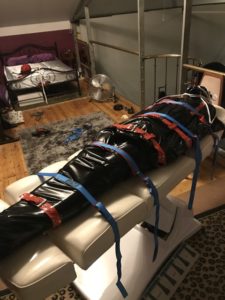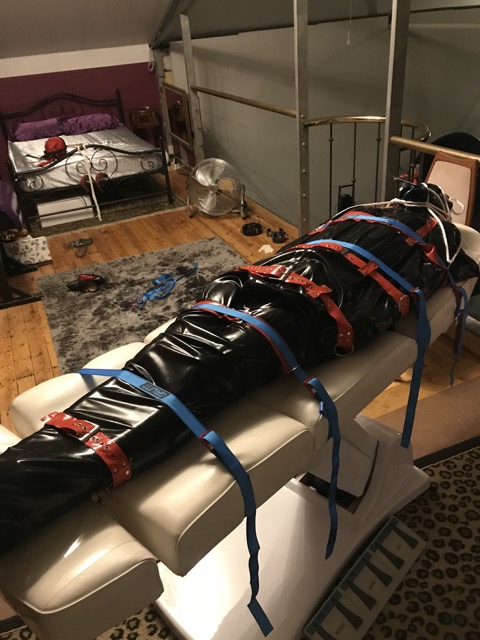 In this example I'm using a latex bodybag and the same straps…
And here facedown – there is a removable head support and underneath it's open like a massage table to enable the head to be well restrained and the submissive to lie face down comfortably (well at least until I decide to get their attention with a strap or paddle!) I've been doing a lot of mummification on this – often doing several layers of individual wrapping and then being wrapped to the chaise itself… very restrictive indeed.
It's that time of the year that Mistress Jadis and I call "The Annual Migration" where we move from conducting most of our sessions downstairs to playing in the two upstairs areas more… The salon chaise has proven a perfect addition to this area – without having a heavy "bondage" appearance in a domestic space it still functions perfectly as a multi-use piece of bondage furniture. With such a large open-plan playspace maintaining an even temperature can be challenging – but in winter the upper floors are always toasty warm… though I have to admit sometimes I tend to overheat as I hate the cold and then after a while upstairs it's good to come down to somewhere warm but not quite so tropical!