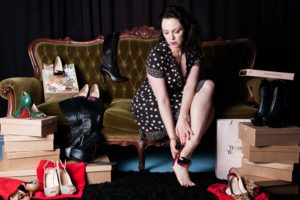 A pure fetishist is always a delight – someone who knows what sparks their desires no matter what. As a fetishist myself I understand the compulsion and intense desire induced by the smell of leather, the caress of vintage nylons or the total hedonism of foot worship. What torments and suffering will you endure to gratify your fetish?
There are few things as pleasurable as the sight of one of my toys in full slave position lavishing my shiny boots with kisses. Spending so much time in high heels and fetish boots, I derive a lot of pleasure from the attention that my foot slaves love to lavish upon my beautiful feet – from the feeling of a tongue caressing my feet through the shiny leather – to the delicate kisses placed on each perfect toe… Some slaves are lucky enough to be ordered to pamper my feet with pedicures and massage. Of course the harsher side of this fetish is trampling… something I particularly enjoy – seeing a helpless male crushed beneath my feet. I enjoy pure foot fetish sessions where the submissive is indulging their fascination – but often enjoy incorporating fetish indulgence with other activities in session – the right to "worship" is more delicious when earned and I enjoy having a balance of activities in session and incorporate some level of slave training.
Fetishes indulged and specialised in include; leather, gloves, rubber, silk, fully fashioned stockings, boots, high heels (the more extreme the better), feet, tightlacing (on me and/or the submissive). I am entranced by unusual fetishes – and love hearing confession of how arousing the most mundane objects and situations can be for the unwary fetishist.
Blog posts about my fetish adventures include